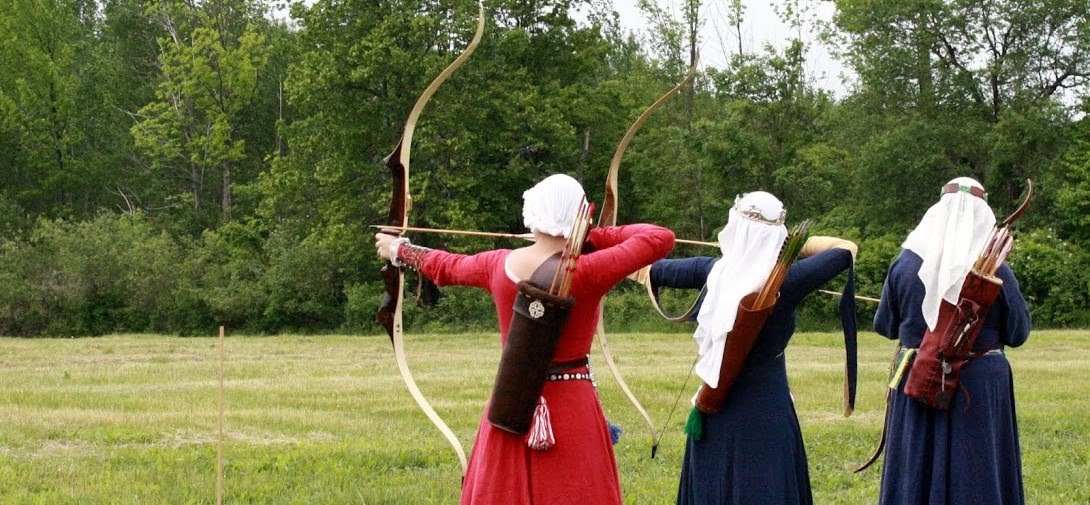 Target archery is open to all ages. Loaner equipment is available for those who are new to archery. Please familiarize yourself with the East Kingdom Archery Policies. (Offsite PDF link) Children 12 and younger must be accompanied by a parent or guardian at all times. Parents of children under 7 should speak with a marshal.
All archers must report to a marshal for inspection of their bow and arrows/bolts before shooting. Loaner gear is available, please ask a Marshal for assistance. Other portions of the range will be open during the Newcomer/Beginner session and Competitions if enough marshals are present.
Marshal in Charge – Lord John fitz Thomas
Saturday
10:00 AM - Newcomers and Beginners:


New to SCA archery or archery in general, but want to learn? Come to the archery range in the morning for a session dedicated to individualized instruction and practice.
Sunday
10:00 AM 3rd Annual Youth Archery Competition:


This competition is for archers who are 17 years old or younger. Children 12 and younger need to be accompanied by a parent or guardian. Archers that are 13-17 and have an archery ranking should not compete in this competition, please consider competing in the Archer's Tournament. The best youth archer will receive a special prize. Please arrive in time to start at 10:00.
Marshal in Charge—Lady Lorita deSiena
1:00 PM Sir Stafford and the Earl of Pembroke Archery Tournament:


This Roses-themed elimination style tournament is for all archers who desire to try their skill in competition with each other. As the Earl of Pembroke will tell you, only a few archers were found at Edgecott Field. That archer who remains standing against his foes shall receive a special prize.
Marshal in Charge—Lord John fitz Thomas
Dinting Dale (Populace Shoot):


Leading up to the battle at Towton, Edward IV's Yorkist forces advanced toward those of Lancaster. Arrows flew at Dinting Dale and again just before Towton. Will you shoot for York or Lancaster? The archery range features a variety of challenging targets including Royal Rounds, all of which are part of the Archery War Point. Be sure to get a score sheet from the Marshals to declare your side and tally your hits.
Royal Rounds: For archers wishing to record/report RR scores RR score sheets are available from the Marshals.